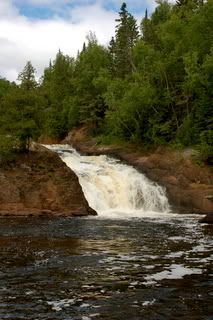 Living in Minnesota gives me the opportunity for all sorts of outdoor experiences, especially when it comes to water. Minnesota is the "land of 10,000 lakes" after all. But its not only the lakes that are a draw for me.

I love hiking along the rivers, streams and creeks that feed into Lake Superior along the North Shore. The rushing rapids of the rivers and the crashing waterfalls contrasts with the quiet views of Lake Superior that come from the tops of the Sawtooth Mountains. (You didn't know that Minnesota has mountains, did you? Not huge, mind you, but there they are.)

Spending the last couple of days along the North Shore made me realize how much I miss living near so much water. It also made me realize that this summer's focus has been about being outdoors - camping at Gettysburg, hiking in the Shenandoah Mountains, kayaking, visiting the ocean, and of course hiking the waterways of the North Shore.

I've gotten a few emails and comments asking where I've been. With the wonderful weather lately, it has been hard to sit down and write when I have the opportunity to be outside. So, as long as the weather is great, I'll be out by the water.